Astro – corner sofa
A neat lounge set created from modules. Conceived both sensibly and with sparkle – just in time for the spacious possibilities of modern living rooms. Multi-module arrangements can be either straight or corner, with a chaise longue (a module
of increased width, allowing comfortable straightening of the legs) or terminal (a module without a backrest, crowning the corner layout). The upper parts of the backrests bend into headrests, increasing the comfort of relaxation.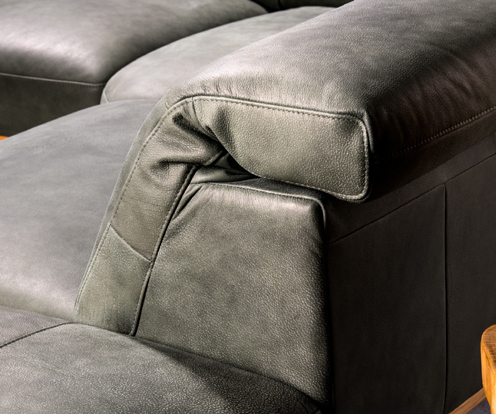 Modular lounge suite.
Technical details:
seat filling: corrugated springs and HR foam, giving the feeling of ideal softness elasticity, which at the same time ensures longer life (springiness of the seat),
backrest filling: upholstery belts and VP foam,
headrests with gradual angle adjustment (manual),
finish: decorative oak frame,
brushed steel legs/legs,
upholstery in natural "Vintage" leather (nubuck) – high quality cowhide with finely sanded face .
Dimensions

Check product dimensions

Check the dimensions of all items in the collection